Titanium Knives – Global Shop Direct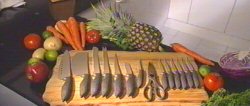 Every kitchen needs a good knife set. But – until now - the trouble has been that they can be so expensive. But now with Global Shop Direct you can afford the elegant, modern, stylish and extremely sharp 14-piece Titanium knife set. Each knife is made with laser precision technology - giving you a razor sharp blade that never needs sharpening.

That's right – NEVER EVER needs sharpening. And that's not the only amazing feature of these fantastic knives. You know Teflon as the coating that stops food sticking to your pots and pans. Well, each of the blades in the Titanium knife set has a triple Teflon coating - so it glides through the toughest and stickiest of foods.

But the true test of a good knife blade is to see how much effort you need to put in, to get it to cut. When you cut with a knife from the Titanium knife set your hands aren't tense at all. You just let the knife do all the hard work!

The Titanium2 knife set is made up of 14 knives. So there's a specific knife for each and every one of your kitchen needs.
There's the Chef's knife… great for so many jobs.
The decorator's knife for fancy work.
The Roller Chopper…
The bread knife we saw earlier.
The utility knife…
The filleting knife…
And, of course, the steak knives.
The Titanium 14 piece knife set is only $89.95 plus $14.95 postage and handling.

However as a special offer we are going to give you a second 14-piece Titanium knife set absolutely free. And when you call to order your 2 sets of titanium knives, ask the operator about our rock bottom special offer on the custom made Titanium2 knife block! It's made of solid sustainable wood – and also comes with 4 bonus knives – and is just $39.95 extra