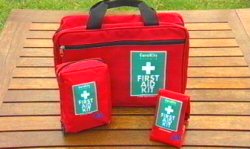 Each year about 60,000 Australian children aged up to 14 years, are hospitalised from injuries. Accidents do happen and the best thing we can do is to be prepared. Having the right first aid equipment on hand can be invaluable because qualified help may not always be there and now you can with Danoz Directís Family Care First Aid Kits.

Danoz Directís Family Care First Aid Kits are a set of three first aid kits that are packed with a range of quality emergency items. An alarming proportion of accidents and injuries occur in the home, so having a well equipped first aid kit is obviously a sensible idea, should you or a family member suffer a misfortune. With a first aid kit on hand, you can provide assistance until professional help arrives if it is needed.

The Home Care Kit is the largest of the three and is a multi purpose kit with a quality range of supplies. It has clear plastic pockets that make it easy to see whatís in the pack, plus they also help protect the first aid supplies from dust, dirt and water. Itís ideal to take out 4 wheel driving, boating, camping and even caravanning. It has the most essential first aid items to ensure you are well prepared in case of an emergency or accident.

Then thereís the handy Travel Care Kit that is specially designed to be compact and lightweight, making it perfect to keep in glove box of the car. Itís a great idea to take this kit out with you if youíre bushwalking or bicycling, playing sport or even enjoying a bbq in the park. Anytime you are out in the great outdoors cuts, bites, bruises and burns are inevitable and more serious problems are always a possibility. This kit is the perfect size and it contains a comprehensive range of dressings and bandages.

You also get a kit for the kids. Itís a wallet with soap and sticking plaster, thatís small enough to put into a pocket or backpack. Improve your peace of mind and be prepared with Family Care First Aid Kits from Danoz Direct.