Do you want to be your own boss? Do your love animals? Does the idea of working in the great outdoors appeal to you? Then Doggy Wash could be your dream job!

Doggy Wash, known as Flea Stoppers in WA, has grown to be Australia's biggest van operated dog-wash franchise. Today Doggy Wash has 43 operators in 4 states, turning-over in excess of 1.4 million dollars a year.

So what does it take to become a successful Doggy Wash operator? Well, a love of four legged friends, but also an affinity with the two legged variety. Because most owners like to chat with their dog washer, it's important that you be a people person.

For dog lovers, it's just got to be the world's best job!
It's fun, you're your own boss, and you can make great money!

In fact Doggy Wash are so sure their franchisees will be successful that all new areas come with an income guarantee. Plus the first five new franchises in each state will receive an extra $2000 advertising budget.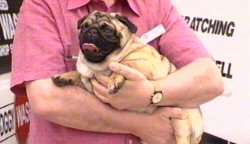 Does your best friend fancy a Doggy Wash?
Regardless of whether your dog needs a good wash or has a flea-problem, Doggy Wash can help.

After your dog is thoroughly washed the operator will clean the dog's ears and give him a thorough dry. Talk about being spoiled! They'll even spray your dog with a special cologne to keep them smelling like roses for days!

And while your dog is being spoiled, you can browse the comprehensive pet shop range in the rear of the vehicle. How easy breezy!