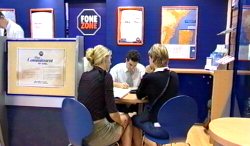 Insurance statistics show that you're four times more likely to have an accident when driving and talking on a handheld mobile phone. And even if you avoid an accident it's illegal and attracts heavy penalties.

At Fone Zone, CARE stands for Customers Are Really Everything. Because the staff are people just like you they understand the needs of their customers usually match their own. They take the time to know you and make sure your phone package is right for you.

At Fone Zone you can get a superb Nokia 7250i on a $50 Telstra Mobile Phone Plan and receive a genuine Nokia Car Kit for only $49, which will be included on your Mobile Phone Bill, this kit is normally $299.

So for just $50 per month you'll get $40 of calls and $10 data – including multimedia messages and the use of the mobile internet. The Nokia 7250i features an integrated digital camera with night mode and FM radio, java enabled games on a full colour screen, as well as quick access to the wireless internet.

Fone Zone can organise to have a car kit hard wired into your dashboard – choosing from installation options like 'no holes' and 'stereo integration' – which automatically turns down your radio when you use your phone.

Which really does prove that Fone Zone Cares.