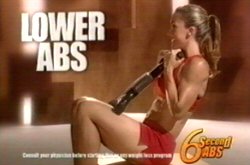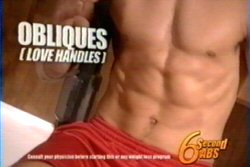 Incorporating exercise in our lives is a great way to start to look and feel better and we all know how important it is to exercise every day.

6 Second Abs can help you lose a dress or pant size in just one week and it's been tested to be up to 15 times more effective than a regular stomach crunch or sit-up. You'll be amazed at how good you feel when you start exercising regularly, and you'll be amazed how easy it actually is to start exercising regularly with 6 Second Abs. Listen to the clicks and count to 6 and you can work your way to feeling confident about the way you look and feel.

6 Second Abs targets your entire abdominal area, which makes this a very versatile machine. The basic crunch targets the upper abs. The side crunch works the obliques. To work the lower abs – there's the seated reverse crunch.

When you do a perfect crunch, you don't have to do as many. You reduce your risk of injury, and target your abs. You'll get a more effective workout.

6 Second Abs can be up to 15 times more effective than a regular crunch or sit-up thanks to its innovative progressive resistance system. The adjustable resistance bands give you total control so you can set the resistance to match your fitness level.

6 Second Abs will help you get a great workout every time.

To help you achieve great results, you'll receive the complete 6 second abs "One Size Off In A Week" Program filled with tips to help accelerate your results and can help you lose a dress or pants size in just 7 days. The 6 Second Abs program is just 2 monthly payments of $49.98 plus $19.95 postage and handling. As a special bonus you'll receive the "One Size Off In A Week" Program, the "Rock Hard Abs" video program that contains 3 fast ab-toning workouts plus you'll get a bonus "Total Body video Program"

Both are available on DVD or VHS. Plus you'll receive a body sculpting Kit designed to help tone and tighten your entire body – quickly and easily. Try 6 Second Abs in your own home and if you're not looking and feeling better simply return it within 30 days for a full refund of the purchase price.