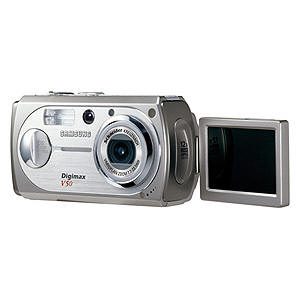 Even if youíre new to digital photography, the V50 will effortlessly guide you through all the controls using familiar icons. In fact, itís so easy to use you probably wonít even need to open up the instruction booklet.

The large, 5cm LCD flip-out screen you can rotate it to any angle for maximum comfort when shooting. As well as providing you with a large viewing area, it is also home to the cameraís wide range of creative controls. Including a full range of custom choices such as exposure modes, ISO and flash settings, as well as the Aperture, Shutter and Manual control.

Need to record a quick reminder? The V50 is also a voice recorder. You can even personalize the camera to your own preferences with the My Cam feature and with the V50 youíre not restricted to still photos. It can also record up to an hour of high tech movies.

Using MPEG-4 format at resolution of up to 640 by 480 at 30 frames per second, the Samsung Digimax V50 delivers a higher quality picture than most other digital still cameras on the market. With 5.1 mega pixels and a high quality German lens by Schneider, the V50 is a force to be reckoned with. A state of the art lens is the backbone of any great camera. Schneider is a world leader in manufacturing precision optical equipment.

In Macro mode you can take photos as close as 4cm away while the 5x digital zoom lets you get real close to the action from a safe distance. One of the handiest things with digital photography is that you can immediately check out your photos. Review each shot, you can also crop and rotate the shots; then delete the ones youíre not happy with and keep the rest! All your masterpieces will be stored onto a 32 meg SD card, which comes with the camera.

The V50ís Multi Card Slot also supports both SD/ MMC and Memory Stick Duo.
Plus if you ever run out of power the V50 will also run on 2 standard AA batteries.

The Samsung Digimax V50 is a great looking camera that gives you great features at a great price.