Danoz Direct Total Trolley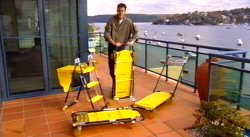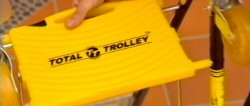 If you've ever had to carry it, move it, drag it or reach it. Then you need the Total Trolley from Danoz Direct.

It's so useful it can become a hand trolley, a four wheel dolly, a flat bedcart and a handy step ladder and it only takes a couple of seconds to convert into these fantastic household tools.

You can solve thousands of problems with the Total Trolley. The hand trolley makes it easy to use even on the stairs. Lie it down and you've got a smooth rolling dolly that carries up to 360kg. It's even great in the garden on soil and bark.

The frame is made from steel so there's no limit with the Total Trolley. Plus it folds to fit into the car or 4 wheel drive. Once you have you Total Trolley from Danoz Direct you'll wonder how you ever lived without one.

You can own your very own Total Trolley for just three easy payment of $49.98 plus postage and handling. They'll even include two bungee cords and as a special bonus you'll also receive a versatile flexi deck – use it on your trolley to stack smaller items.