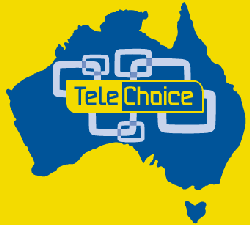 Telechoice are colourful and fun and easy to spot in your local mall or shopping centre. Telechoice aren't just about mobiles, you'll also find prepaid phones, local and long distance calls even DSL or broadband Internet connections.

Customers love Telechoice because they know they'll receive the best and friendliest service and the most up-to-date information and technology.

Telechoice treat their customers with respect because when you walk into any Telechoice, you can talk to the owner, as every Telechoice is a franchise not just part of a chain. It's a small business, a personal endeavour.

You'll really notice the difference at Telechoice you can count on friendly personal service, honesty and efficiency.

Telechoice will enable all the features of your new phone – setting up the internet connection, multimedia messaging – making sure you get the most out of your mobile, you don't get that kind of service everywhere and if you're in a rush, Telechoice will give you a Thank You Card, a nice little reminder to pop back in at your convenience and get your phone fully functional.

When you do buy a new mobile, Telechoice and Optus can give you 2 months free insurance!

You've now got a friend in the mobile phone business your local Telechoice dealer.