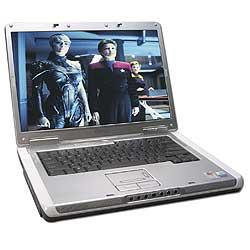 Dell, internationally known and respected, brings you the latest computer technology and accessories at incredible prices delivered to your door.

The Dell Inspiron 6000 is a sleek and stylish notebook featuring Intel Centrino Mobile Technology, an Intel Pentium 1.6 gig processor, 256 meg memory, 40 gig hard drive, a CD Burner and DVD player and a 15.4 inch Ultrasharp Widescreen.

With the Intel Centrino Mobile Technology you'll feel you've been set free when you can use your notebook out and about and get online using wireless connections. The Dell Inspiron 6000 is light and easy to carry and gives you outstanding mobile performance with excellent battery life.

The Dell Inspiron 6000 can be yours for only $1,699.00 and that includes $99 for delivery to your home or office.

You'll need a good printer and Dell has the all-in-one 922. It's a great inkjet printer that produces sharp black and white and vivid colour on the page and in borderless photos. Plus it's a one-touch black and white photocopier as well as a brilliant scanner

All for only $139 – including $20 delivery to your door.

Dell makes it easy and convenient for you to connect to the internet with a free DVD featuring exclusive Broadband and Dial Up internet Offers available from AOL. Like Broadband monthly access fees starting from only $19.95 a month.

The are two great deals to choose from: if you order over the phone Dell will double your notebook's memory to 512 meg – FREE! Or order online and Dell will give you the 512meg PLUS upgrade you to a DVD Burner – it's your choice.